According to SE Roubdtable
 , Google just posted a message on the official Twitter account a few hours ago: an algorithm update called Speed ​​Update, which is the algorithm that affects mobile search rankings, is in full swing.
Rather, this update should be called mobile speed update, Mobile Speed ​​Update, because this is for mobile pages and mobile search rankings.
SEO must know that the page open speed is one of the search ranking factors, both Google and Baidu. Google announced and started page speed as one of the ranking algorithms as early as April 2010 . However, page speed is only a small factor in the ranking algorithm, affecting only 1% of the query rankings, only pages that are really very slow and slow will be affected.
But what's a little confusing is that until today, the page speed impact ranking since 2010 refers to PC search and PC page open speed, not mobile search.
In the past two or three months, Google has turned the eligible sites to mobile-first index in batches . Most of my sites have already seen notifications in Google Search Console, and have been converted to mobile-first indexing, that is, Google started indexing sites. The mobile version, not the PC version, is used as the basis for ranking.
So far, the speed of moving pages is not a factor in search ranking. Google has begun to use mobile page indexing to rank, so the speed of pages that turn to mobile-first indexing does not affect search rankings. The mobile search ranking is looking at the speed of the PC page. Does this sound a bit illogical? Mobile search and mobile pages need to consider page speed more.
So Google posted in January this year that they are considering this issue and will use page speed as a ranking factor for mobile search in July. This algorithm is on schedule today.
There are a few things worth noting about this speed update:
Only affects pages that are particularly slow
Only affect a few query words
Satisfying query intent is still the most important, so if there is good, relevant content, very slow pages will still have a good ranking.
Fast speed is not a plus factor, so the page is already good, even if the speed is improved faster, it will not improve the ranking.
The slower pages that are affected, the speed will be improved, the ranking will be greatly improved.
PC index still uses PC page speed
So, if the reader's English website ranks and traffic in this two days, especially mobile search, there is a big reduction, probably because the mobile page is too slow. If there is an improvement, it may be that the top competitor page is too slow and is ranked lower.
Mobile search is now the focus of all search engines, as is Baidu, or even more so. Last week, I participated in the 2018 Xi amen Mad Con Conference and the Baidu Search Salon. Baidu's current bear paw is also aimed at mobile search. The PC search is basically not mentioned.
The reason is also very simple, the amount of mobile search queries exceeds the PC-side search. The picture below shows the share of worldwide mobile search and PC search over the past 2 years: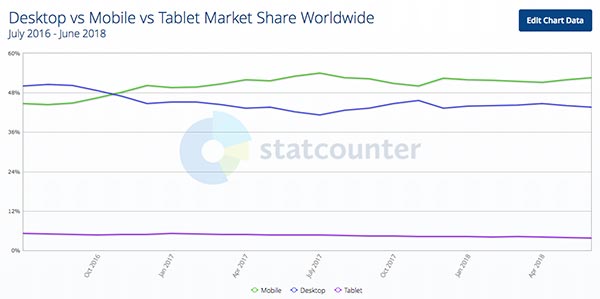 The number of mobile search queries roughly exceeded the PC search from October 2016. The current mobile search share is 52.36%.
The picture below shows the proportion of China Mobile search and PC search in the past 2 years: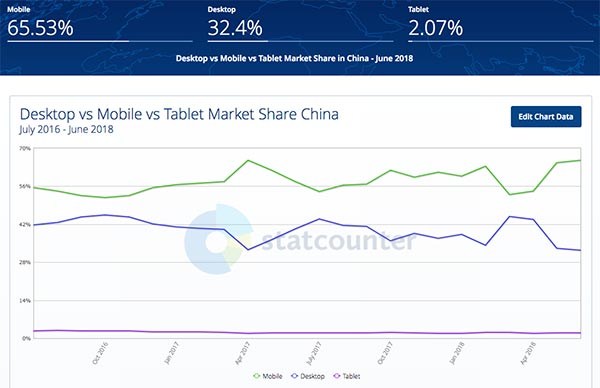 China Mobile Search has more PC search queries and a higher mobile search ratio. At present, China Mobile's search accounted for 65.53%, which is much higher than the global scope. This may be one of the reasons why Baidu is more interested in mobile search.